Kenta Nakamura creates art – described as "comedically surreal" and "playful" – by utilizing a mix of photographic methods and interweaving reality with fiction. All the while, he dodges meaning: making sure no significance is assigned to his photographs. What's can one infer from Nakamura's images: his jest-like behavior? I ask this "LUMIX MEETS BEYOND 2020 BY JAPANESE PHOTOGRAPHERS #6" artist about how he relates to the unique images he creates.
Interview/Composition=Eisaku Sakai
Photo=Dustin Tierry
―Two of your photography series, "Your Story" and "Offerings," are currently on display at the "Beyond 2020" exhibitions underway in Amsterdam and Paris. What was your inspiration for these works?
"Your Story" happened by chance — I had two of my uncles put on 3-D glasses and thought they looked funny, and it just continued to unfold from there. I got started with "Offerings" by way of a request from magazine from overseas; they had commissioned me to photograph new works in line with the theme of "ethereality."
―In both of these series, a defining trait of your work is that you employ a mix of different shooting methods – some photos look like everyday snapshots, and others like they were carefully set up in a studio. What is your aim in using a mixed-method approach?
I'm not really conscious of the documentational aspects of photography in my works — it's not important on what day the picture was taken, or where. It's not so much about portraying the truth or facts of a certain event. Rather, I use a mix of photographic methods – like street snaps, documentary-like photographs, and studio photography – because I want order to create some ambiguity and blank space, to give space for the viewer feel something unique to them.
―People seem to perceive street shots and documentarian photography as reality, whereas set-up photos taken in studios exist as a figment of fiction. What is this "blank space" that comes about by mixing these two photographs?
I took the photos for "Offerings" in made-up, ceremonial settings. Ceremonial rites have existed before we any of us were born, and yet we participate in them without question: local festivals, for example. There's an unseen power that pervades undertakings like that. And humans have a reverence for that power, like we do for magnetic fields, for the gods, and other things. But all of these concepts are ones that humans originally conceived, and I was curious to see how the photographs I went out of my way to take and contrive would be different from these manmade ideas.
―So, there's something that runs true between the ceremonies and the photographs.
I just tried taking a bunch of pictures of things that seemed interesting. For instance, take the photo of the boy covered in kisses — what if there was an actual ceremony where you have to kiss someone all over when they turn six years old? (Laughs)
The pictures of the food loaded on plates, too — for that one, I had a French chef make a plate of food so I could give it as a ceremonial offering.
I thought it would be funny if someone happened to see these pictures in 100 or 200 years — would they just believe what they see? Or would they dig a little deeper, just to discover that it's fabricated? That's what I had in mind when I released this series. It's like the opposite of found photography — I like to call them "buried photographs" (laughs). It's like I'm waiting for someone to dig them up at some point in the future.
―I see, so the blank space is in the uncertainty of the viewer; how they don't know whether the picture is truth or fabrication. How do you perceive the truth when you take photos?
I'm always conscious of the truth when I'm taking photos for work. For example, when I take pictures of a wedding or of family, the truth is what's most important.
―Like if everyone's face is showing in the photograph or not.
I think about those sorts of things when at work, so it may be that I'm trying to dilute that element in my personal art pieces. When working, I often think that the lighting is too stiff, too rigid: that the personality of the subject I'm shooting doesn't come out in the photograph. Lately, wedding photographs are so elegant, so dramatic: and I think that photography within that context is very technically advanced. But what happens is that the photograph doesn't necessarily require the couple in question to feel complete. I think a lot about how not to fall into that trap – to portray the essence of the subject in the most perceptible way I can.
―I see. In contrast to those photographs, your personal art pieces consistently look to have a surreal, almost comedic air about them. When shooting your own personal works, is there anything you are conscious of in approaching your subject?
A lot of times I mix in foreign matter to the photographs. "Oh, this would be funny if this was in the shot" – this is the kind of attitude I have when shooting.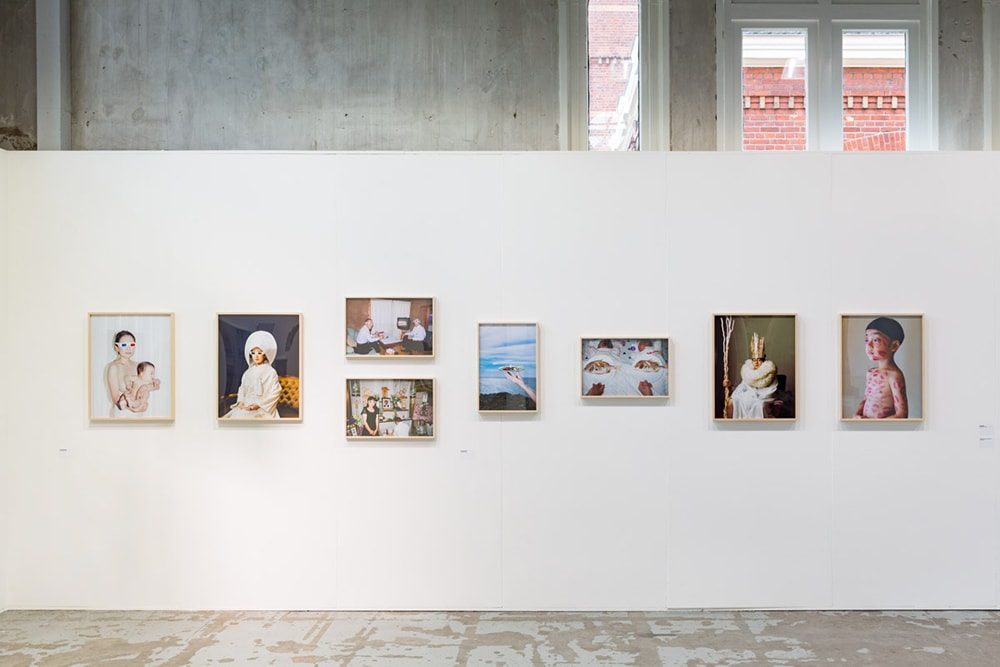 The exhibition for "LUMIX MEETS BEYOND 2020 BY JAPANESE PHOTOGRAPHER #6" in Amsterdam(photo by Shinji Otani)
―Like an "alienation effect" of sorts.
An acquaintance of mine who is a photographer told me that my photographs look like they're something from a different planet: an image taken from a parallel universe. When I first heard that, I actually thought about how wonderful it is that someone has a sensibility that lets them perceive it in that way.
―It looked like that to me too at certain points. But does that mean that you are not necessarily conscious of that when shooting?
If I was to be conscious of it, I feel like I would be too caught up by the confines of what a "different world" has to be and the photographs wouldn't be interesting anymore.
―I'm curious to know what "funny or interesting" means to you personally. Is there anything that has influenced your perception of that concept?
I'm a huge fan of the out-of-this-world, super-surreal, comedic feel you can find in A-min Okada's manga and drawings. I get inspiration by sensations and perceptions slightly alienated from common sense and society. Another is the radio. There's a talk show by Hikari Ijuuin called Sorano Hour on the radio – you know the show Soramimi Hour*, right? It's like the "brain" version of that, because "no" means brain" and "mimi" means ear. The brain records memories in our heads of events that may not have actually even happened – I like how those elements are blurred in our own heads, and yet we have an itch to know more about them.
*a Japanese comedy show which draws attention to auditory hallucination of hearing foreign words or lyrics that sound similar to a phrase of completely different meaning in the listener's own language
―I feel like there are glimpses of that alienation from common sense or society in the peculiar scenes you depict in your photographs, like the ones with the 3D glasses within them. Your photographs almost make the minor, subtle details of everyday life more striking.
Interesting. I myself don't have much of a message that I want to portray with my photographs; I think I'm more conscious about how I want the viewer to use a part of their brain that they don't usually access. For example, I'm in the process of editing my photograph statement a bit, and as opposed to simply explaining what my works are, I view the statement to function as a rulebook of sorts. Rather than the text acting as something that gives depth to the photographs, I want it to be something that functions to jumps out in the space between each image, something that pops.
―Is that consistent with your idea that photographs bound by rules or decorum lose their interest as photographs?
It is. This generation we're in puts a lot of value on empathy and resonance with things; so that means that you have to resonate with what a person is doing for it to mean something. In my case, I think it's about co-existence – that we are each living our own lives in our own place and accept each other for what each person is doing with themselves. I feel like things would be happier if life was like that. That's why I try not to assign too much meaning to my photographs – I hope they can act as a mediator for different viewpoints and senses of value.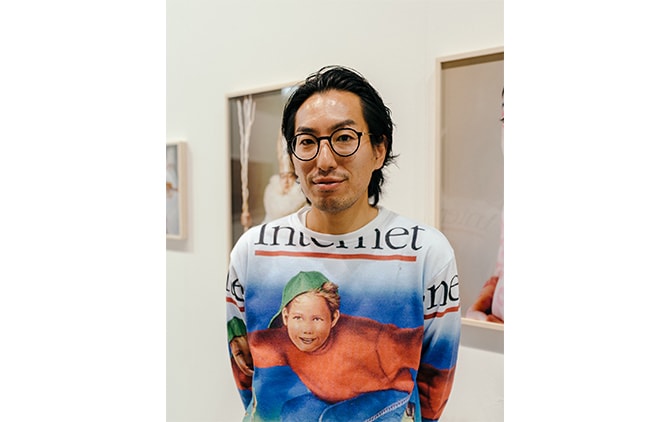 Kenta Nakamura
Born in 1981. In 2016, he was selected as one of the 30 best photographers, with one of his images selected as the best photos of the year by Vogue Italia. His s critically acclaimed series, Your Story, in which his subjects were photographed wearing 3D glasses, was featured in a range of media worldwide. Solo exhibitions include Your Story at Nizhny Tagil Museum of Fine Arts in Russia in 2017.
http://kentanakamura.com/